"EQUILIBRIUM" Petru Bogdan Pictorial – Imagine Magazine Vol. V
Interview with Petru Bogdan
"It's all that we see or seem
but a dream within a dream"
Edgar Allan Poe "A Dream Within a Dream"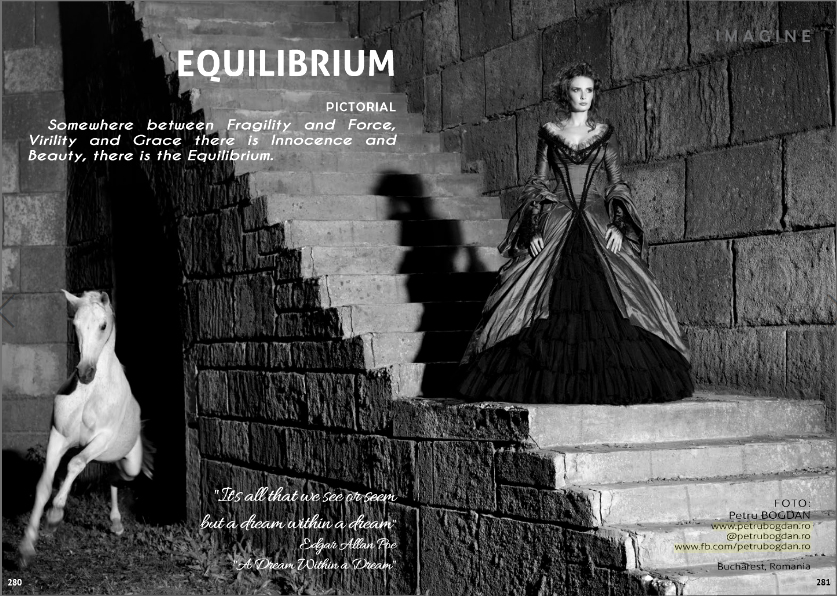 Somewhere between Fragility and Force, Virility and Grace there is Innocence and Beauty, there is Equilibrium.
Around the year 2003 I had the chance to work on a project introduced to me by a good friend, Catalin Predoiu. He was producing the "AutoShow" 2004 Calendar, a project commissioned by Auto Media, based on an idea by Dan Vardie.
Although, obviously more about horsepower, at some point, this presented to me the first opportunity of my career to include in the photographic imagery an actual horse.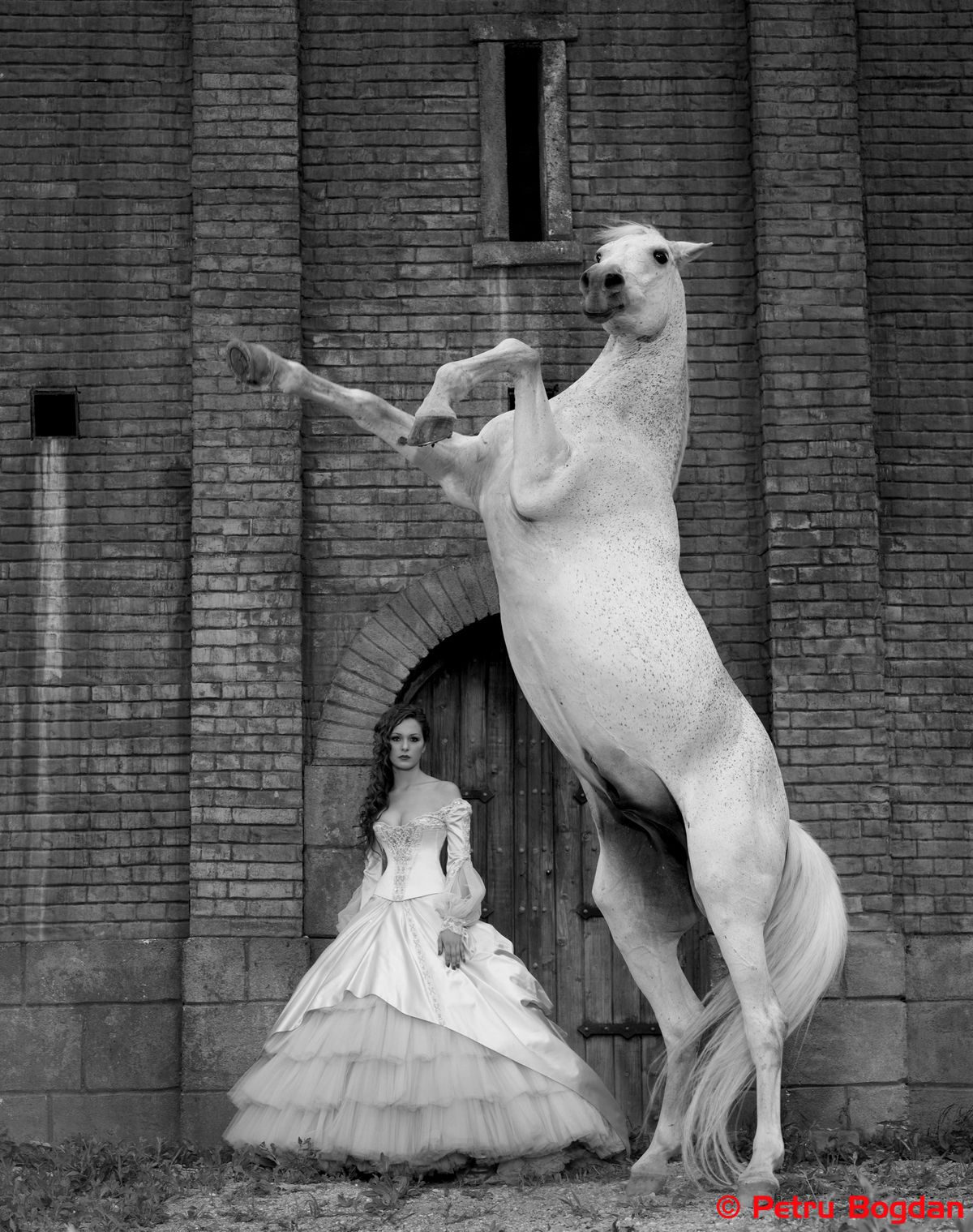 I remember that we had a photo session in a forest near Bucharest, at Hollandia Riding Club with an absolute beautiful, dark brown, jumping breed horse called Nassau.
It was a wonderful experience and a funny one as well. Nassau proved to be a horse with an attitude.
After three hours of shooting at the edge of the forest, I was still waiting for the sun to come down a little more for the perfect light, but the horse got tired of the bugs bites and my persistence and while I was loading another film in the EOS 1N camera the horse decided that enough is enough and broke into a gallop toward home, laving me with the camera in my hand watching him going home and all the crew around laughing at me. I thought to myself that I've got a critic for my work…
I had loved the experience and that feeling remained with me for a long time…
After some years, I met Mr. Ovidiu Vajiala, a racehorse passionate and owner, who came up with the proposition to develop a photography art book centered on the horse. I immediately accepted and thus the "Equilibrium" project was born.
I've learned a lot from and about the horses I worked with on this project. I've learned about beauty, grace and tenderness from the Friesian horse, a very energetic breed that exhales strength and power. I never thought that he could be so warm and gentle.
The white – gray horse had a very expressive look and face. He was playful like a child, always joking around. Whenever I was not paying attention he was gently grabbing my coat, my sleeve, even my hair. Sometimes I had the feeling that he was laughing.
For this project I used the Phase One 645DF body camera body with the P65+ digital back and Schneider – Kreuznach lenses provided by Mihai Musceleanu.
It was my first shooting with this camera system and it was a fascinating experience for too many reasons to mention here. Enough to say that from that moment on I worked almost exclusively with Phase One equipment.
Lighting was ensured by Castel Film Studios: continuous light – Arri HMI – 1000W to 10000W and a multitude of accessories.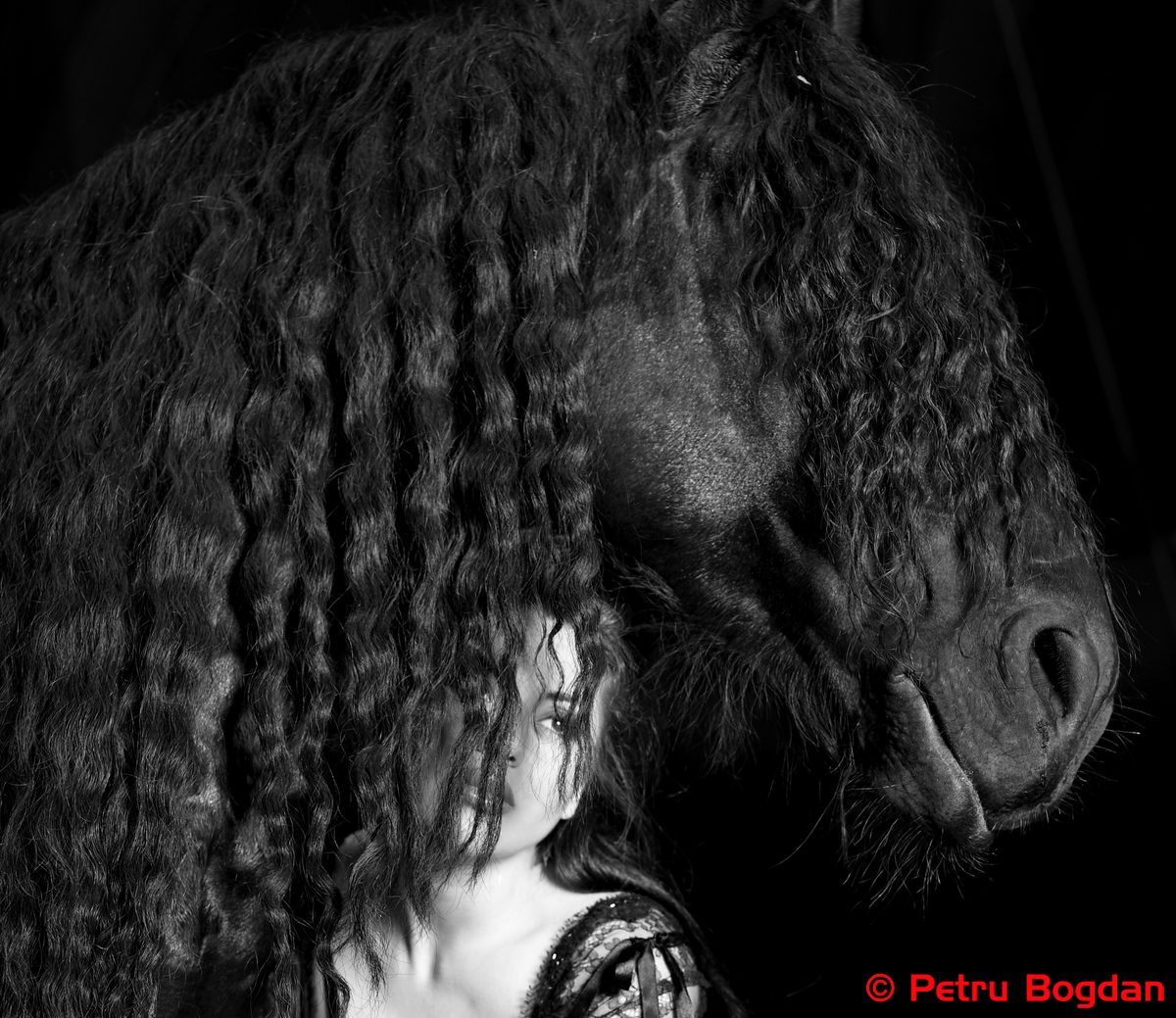 A very professional team made this project possible:
Producer – Ovidiu Vajiala
Horse trainer – Valentin Vasilescu
Costumes – Florentina Stoenescu
Make-Up – Maria Pauna
Hair-Style – Valentina Lungu
Models: Cristina Anescu, Iulia Alexandrescu, Mihaela Florea, Aniela, Andreea
Locations: Castel Film Studios, Snagov forest and lake, Bucharest Metropolitan Circus
Technical support – Mihai Musceleanu, Castel Film Studios
On June 4, 2015 there was an exhibition with photos from Equilibrium Book at The National Village Museum "Dimitrie Gusti". It was the launch event of the book "Racehorse Training – The Art of Becoming Champions" by the same horse enthusiast Ovidiu Vajiala.
"To see a world in a grain of sand
And a heaven in a wild flower
Hold infinity in the palm of your hand
And eternity in an hour"
William Blake "To See a World…"(Fragment from "Auguries of Innocence")